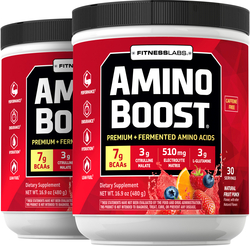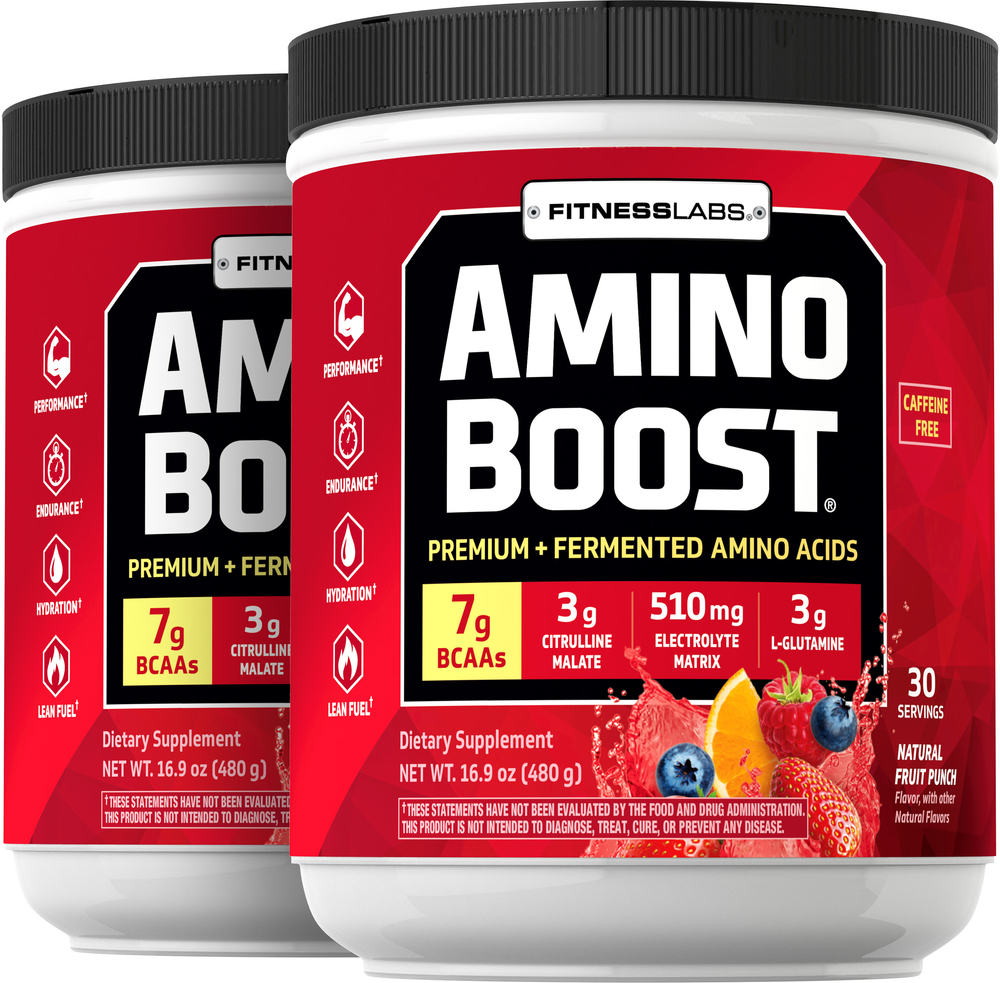 Amino Boost Pó de BCAA (sabor natural de ponche de frutas), 16.9 oz (480 g) Frasco, 2 Frascos
Temporariamente indisponível
Volte a verificar em breve
Preço de varejo:
AOA Kz 25,699.70
Sua economia:
AOA Kz 6,413.00
Nosso preço:
AOA Kz 19,286.70
(Desconto de 25%)
Factos sobre suplementos
Montante
por dose
% Valor
diário
(VD)
Calories
5
Total Carbohydrate
1 g
1%*
Calcium (from Calcium Citrate)
20 mg
2%
Magnesium (from Magnesium Oxide)
80 mg
19%
Chloride (from Sodium Chloride)
45 mg
3%
Sodium (from Sodium Chloride)
45 mg
2%
Potassium (from Dipotassium Phosphate)
75 mg
2%
AminoBoost® Blend
10 g
†
Branched Chain Amino Acids 2:1:1

L-Leucine L-Isoleucine L-Valine

7 g
†
L-Glutamine
3 g
†
Citrulline Malate 2:1
3 g
†
Electrolyte Hydration Matrix

Dipotassium Phosphate, Magnesium Oxide, Sodium Chloride, Calcium Citrate

525 mg
†
Outros ingredientes:
Natural Flavors, Beet Root (color), Citric Acid, Sucralose, Sunflower Lecithin, Silica.
Direções:
Add 1 scoop (16 grams) daily to 10 ounces of water before, during or after a training session.
AVISO:
Not intended for use by pregnant or nursing women or for those sensitive to caffeine and beta-alanine. If you are taking any medications or have any medical condition, consult your doctor before use. If any adverse reactions occur, immediately stop using this product and consult your doctor. Not intended for use by persons under the age of 18. Beta-Alanine may cause harmless, temporary tingling sensation or "flush" effect on the skin for some individuals. Limit the use of caffeine-containing medications, foods, or beverages while taking this product because too much caffeine may cause nervousness, irritability, sleeplessness, and occasionally rapid heart beat. If seal under cap is damaged or missing, do not use. Keep out of reach of children. Store in a cool, dry place. Do not combine with alcohol. Consume as part of a healthy diet, and drink at least 100 oz. of water per day. Exercise may increase your need for additional fluid intake.
* As doses diárias percentuais baseiam-se numa dieta de 2000 calorias
† Dose diária (DD) não estabelecida.