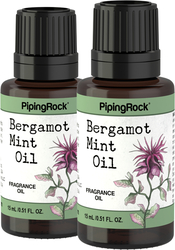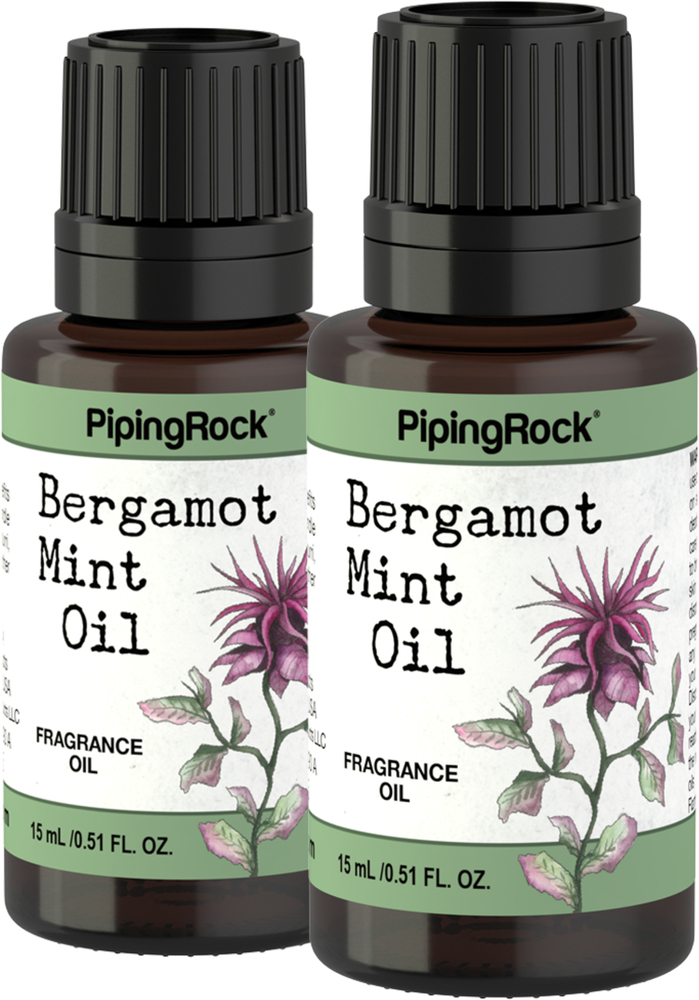 Óleo perfumado de bergamota e menta, 1/2 fl oz (15 mL) Frasco conta-gotas, 2 Frascos conta-gotas
Preço de varejo:
AOA Kz 4,531.50
Sua economia:
AOA Kz 1,144.80
Nosso preço:
AOA Kz 3,386.70
(Desconto de 25%)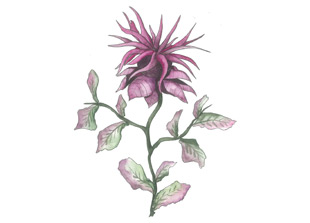 If there was ever a scent that evoked the sweet sensation of spring and summertime, it is that of bergamot mint! This sensational fragrance, a staple in the perfume industry, is reminiscent of homemade lemonade and fields of lavender. An uplifting aroma any time of year, let yourself get lose in the sensation of this humble herb with each drop of PipingRock's Bergamot Mint Fragrance Oil!
Fragrance
Fresh and sweet scent, like that of floral, minty lavender with a burst of citrus
History of Bergamot Mint
A member of the mint family, Mentha citrata is also known as lemon mint thanks to its distinct citrusy aromatic burst. A perennial reaching a height of 1 foot, bergamot mint can be found growing alongside British roadways during the spring and summertime. It is perhaps best known for lending its sweet flavor to teas and lemonade, but it's the aroma that has found a great deal of use for farmers, who use cut sprigs of the plant to ward off pests from entering the granaries! That's not all, the uses of this Bergamot Fragrance Oil are endless!
How to Use Bergamot Mint Fragrance Oil
Give your projects a refreshing burst of mint and citrus by adding PipingRock's Bergamot Mint Fragrance Oil to your candle making, incense, potpourri, soaps, deodorants and other bath and body products!
To learn how to make your own unique homemade candles using Bergamot Mint Oil, check out this simple step-by-step on The Pipe Line!
PipingRock's Promise:
We proudly offer you everything you need for an advanced, daily Aromatherapy regiment at the lowest cost in the industry! From Essential Oils to Carrier Oils, Diffusers to Blending Bottles, Beeswax, Books & more, we have you covered. With over 100 Essential Oils to choose from, you can create your own homemade scents and beauty products. Enjoy various blends & Essential Oils Sprays or experience our revitalizing, botanical Massage Oils!
About PipingRock's Quality:
You've found your One-Stop-Shop for Aromatherapy products at PipingRock. Our Essentials Oils are crafted in our own "GMP Certified" manufacturing facilities. We verify PipingRock products with third-party, FDA-registered agencies to ensure quality. Each product goes through hundreds of checks, in-process and post-production. Our outstanding Essential Oils are GCMS tested to deliver guaranteed purity. We offer various 100% Pure Essentials along with other popular, unique blends. We guarantee purity, potency, safety and innovation in everything we do.
Outros tamanhos
Produtos relacionados